New Lab Renovations Nearing Completion
Date: 2021-06-08

By: Mike Aubrey

With Texas reopening in the wake of the pandemic, I was happy to stop by Welch Hall for the first time in over year! Despite the shutdowns, restricted access to campus, and continuing supply chain issues, UT Chemistry really pulled to together to make this happen on schedule. Ann Harasimowitz, Steven Moore, and Andrijana Vukovich are especially deserving of credit for all the progress made over the last year.

Center room of Welch 4.144
A lot of progress has been made. There were student offices and a wall that ran through the middle of the center room shown above. Opening up the space, and moving student offices out of the wet lab and across the hall, gave us room to install two 4-port gloveboxes in the lab. We also got a new acid hood installed in Welch 4.142. By concentrating all our corrosive work into one hood we can avoid corrosion of duct work over time and the build up of oxidized duct work.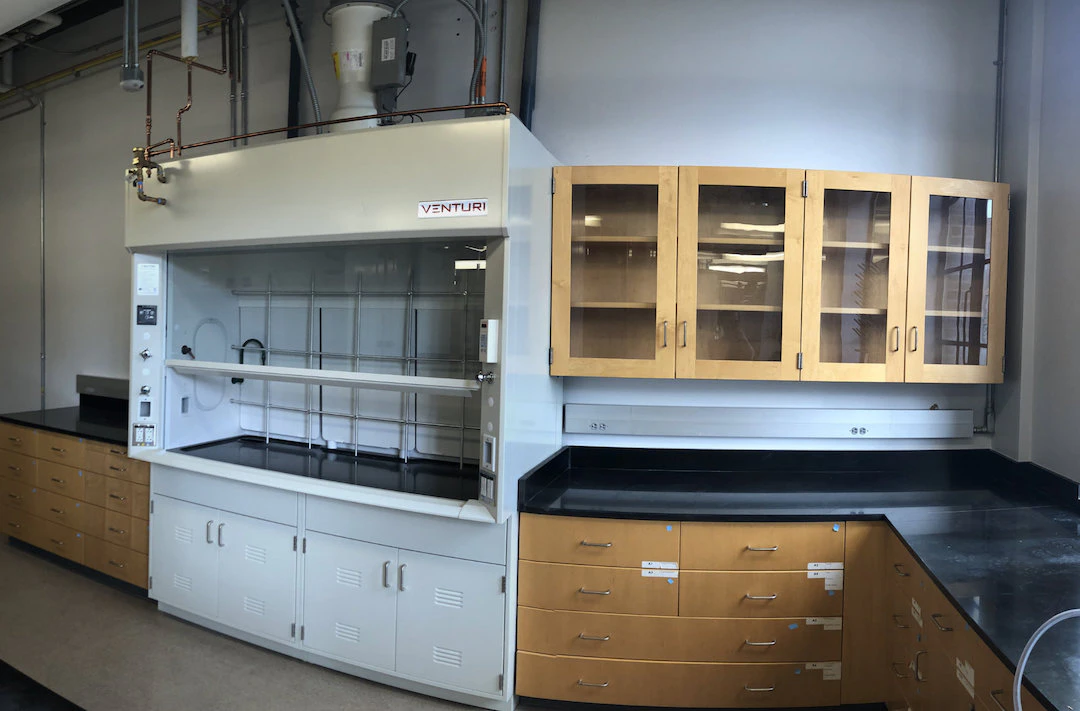 New corrosives fume hood in Welch 4.142
Now the finishing touches are underway as the new floor is being leveled and the second glovebox is arriving in a few weeks. Other items are coming soon:
New student desks across the hall
New mobile cabinetry and instrument array in Welch 1.146
Big thanks to Rich Jones for an air free solvent dispensing system!
Resurfaced bench top for glass blowing station
Custom Schlenk lines from Adam Kennedy the UT Glass Shop
Instruments and labware are on the way!